Osteopaths
Dr. Lana Andalis, Osteopath
B.App.Sci.(Comp Med)/M.Osteo.
Practice Owner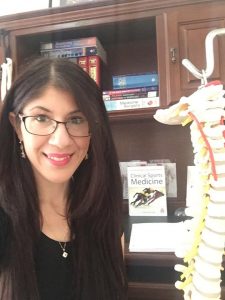 Dr. Lana Andalis, Osteopath and Practice Owner, is highly professional and has extensive experience with over 10 years of clinical experience in private practice.
Lana is extremely passionate and her primary focus is to connect with patients to help them to achieve their goals.
Lana has extensive experience in the diagnosis and management of musculoskeletal pathologies, in particular, establishing a diagnosis and management for those who have longstanding chronic undiagnosed pain and/or upper limb/lower limb neurological symptoms, lumbar disc bulge(s) and facet sprain(s), spinal osteoarthritis, knee osteoarthritis, osteoporosis, medial and lateral epicondylitis, carpal tunnel syndrome, plantar fasciitis, shoulder bursts, rotator cuff tendinopathies and musculoskeletal postnatal care.
Lana provides patients with an individualised approach to osteopathic treatment and management. She empowers patients with education surrounding their pathology, as well as a supportive management plan, to minimise relapses, prevent injury and to ultimately allow people to get back to the activities they love and life life to the fullest.
After 5 years of studying at University, Lana graduated from her Masters of Osteopathy in 2009 and in 2012 Lalor Soma Osteopathy was established, with the vision to expand and become a multidisciplinary practice, offering a wide variety of health services in one convenient location.
Lana is looking forward with plans to to move into the corporate sector, where over the last few years she has had experience in assisting patients with appropriate desk ergonomics, to decrease unnecessary loading placed through the upper limb, neck and thorax, with an important consideration being to subsequently aim to prevent unnecessary tendinopathies or neuropathies from arising. She also enjoys promoting health, nutrition, exercise and mobility.
Outside of clinical practice, Lana and her fiancé Bill, enjoy cooking, travelling and exploring architectural sites, going for walks and gardening. Lana greatly enjoys spending time with her family and friends, great nutrition, exercise wellbeing and staying fit, healthy and strong. Lana is also fluent in Greek.
Dr. Justin Johnson (Osteopath)
BHSc/B.App.Sci (Osteo)
Justin graduated with a double bachelor's degree in Health Science/Applied Science (Osteopathy) with distinction from RMIT University. His passion for osteopathy originates from his desire to help others in need. He prioritises motivating patients to take an active approach to their healthcare and aims to assist in any way possible along their road to recovery. This includes hands-on osteopathic treatments in affiliation with exercise rehabilitation, pain education, ergonomic advice and lifestyle interventions.
Justin has a special interest in treating neck pain, including headaches and migraines, low back pain and common sports related injuries. He has also gained exposure to healthcare at the elite sporting level when interning abroad in India, and he was fortunate enough to tour with a professional youth soccer development squad to Thailand.
Justin currently provides osteopathic and sports trainer services to La Trobe Uni Soccer Club. He is a practicing member of Osteopathy Australia, Sports Medicine Australia and is an original member of Osteo Sports Network (OSN).
He looks forward to engaging, motivating and supporting patients to feel better, move better and live better.